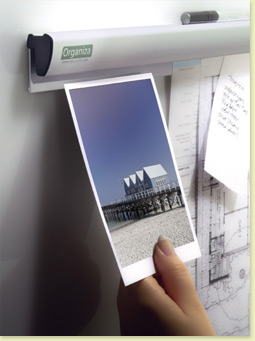 Organiza™ can be found in some of Australia's leading company's boardrooms
Organiza provides a simple, effective way to display your important documents. From large maps to small memos and notes, simply slip it in and it's secured.
Organiza's sleek form is designed to complement any modern office or workplace decor. The perfect partner for whiteboards, blackboards and pin-up boards.
Used in offices, factories, restaurants, supermarkets, schools and homes.
Applications
Memos, maps, artworks, posters, brochures, plans, invoices, job cards, photographs, advertising displays
Features
Moulded Utility Groove:
For pens, white board markers and rulers.
Vertical Display System:
A special paper wedge on the top edge captures the bottom of documents from an Organiza placed above. This is useful when displaying large rolled documents such as maps.
End Caps:
Slotted end caps allow documents to extend beyond the unit ends.
Capacity
Paper Holding System:
Paper and card from 0.05 to 4.0mm.
The paper is held securely without damage to the document.
Construction
Durable, light weight extruded aluminium.
Moulded end caps.
Finish
Powdercoated white (standard extrusion colour).
Custom & corporate extrusion colours are available.
End caps - black
Mounting
Screws - for a high strength fixture
Double sided adhesive tape - suits most environments. (Available on sizes up to 600mm.)
Self adhesive magnetic strips - for white boards and metal surfaces.
Size
Standard sizes: 210mm, 300mm, 400mm, 500mm, 600mm, 700mm, 800mm, 900mm, 1000mm, 1100mm, 1200mm, 1300mm, 1400mm, 1500mm, 1600mm, 1700mm, 1800mm, 1900mm, 2000mm, 2100mm, 2200mm, 2300mm, 2400mm, 2500mm, 2600mm, 2700mm, 2800mm, 2900mm & 3000mm
Custom sizes can be ordered. (Endcaps - black only)