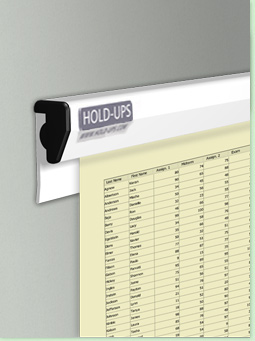 Hold-Ups™ is the original glass ball paper holder developed and manufactured by Creative Aussie since 1987.
Hold-Ups is a high quality paper holding system that has been designed to hold paper firmly in position, even under the most demanding conditions.
The Hold-Ups has long been regarded as Australia's best paper holder and is found in many of the world's best restaurants, schools, universities and businesses.
Use them for plans, photos, memos, notices, x-rays, maps, displays, and food and drink dockets.
Hold-Ups are sometimes also known as Holdups or Hold Ups.
Applications
Memos, maps, artworks, posters, brochures, plans, invoices, job cards, photographs, x-rays, job dockets, advertising displays, food orders, drink orders.
Features
Hold-Ups are ideal for use in hotels and restaurants for displaying table orders for chefs. Hold-Ups are widely used in supermarkets above doorways and windows for their large advertising slogans and supermarket specials price cards. Paper capacity from one page to card 3mm thick can be held in Hold-Ups.
Capacity
Paper and card from .05mm to 3mm
Construction
Long life aluminium, glass balls, polymer end caps.
Finish
Standard extrusion colour - white.
Powder coated baked epoxy resin.
Custom and corporate extrusion colours available upon request.
End caps - black.
Mounting
Mount Hold-Ups to a vertical surface.
Use Screws - for high weight usage.
Double sided adhesive tape - suits most lighter applications (supplied with sizes 175mm up to 600mm)
Self adhesive magnetic strips - suits most lighter applications. For white boards and metal surfaces.
Size
Standard sizes are: 175mm, 300mm, 400mm, 500mm, 600mm, 700mm, 800mm, 900mm, 1000mm, 1200mm, 1500mm, 2000mm, 3000mm
Custom sizes are available to suit your individual needs. (End caps - black only)